With the Meadowland and Sunshowers Quilt Alongs finishing up, it's a good time to talk about mailing quilts. Do you struggle to find a Longarmer in your area? Does your local Longarmer have a long turnaround time?  Perhaps you find that your local Longarmer isn't listening to your vision of quilt. Finding a Longarmer that you trust can be easier than you think, but they may not be local. Shipping your quilt can help with all of these problems and it doesn't mean it will take a long time to get your quilt back! Once I receive a quilt, I can quilt it and have it back to you within around a week! 
Before I bought my Longarm, I used to send my quilts out. The Longarmers in my area were limited and felt like they didn't have enough information online for me to want to work with them. I found a couple of Longarmers on Instagram and gave them a try instead. I did lots of online searches about the best way to send quilts through the mail and have come up with a few tips.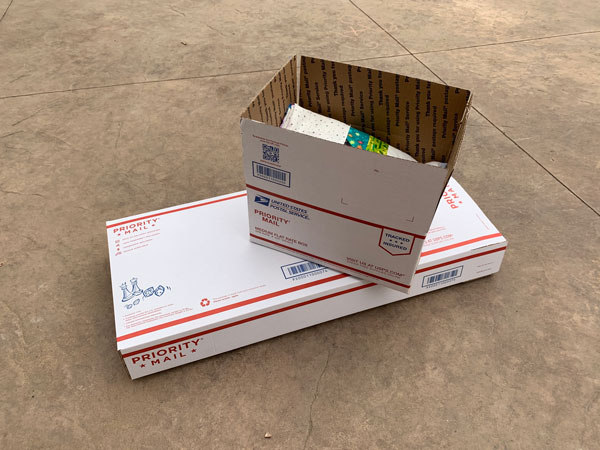 What Shipping Should I Use?
I use the USPS to ship my quilts. I've had clients use FedEx and UPS, but I find the USPS to be the most economical option.
You may hear about the Post Office losing packages with quilts. I have NEVER had that happen with all the quilts I've sent back to clients over the past year. 
USPS Priority shipping is a great option and is the way I mail quilts back to clients. I never go to the Post Office to pick up Priority boxes. I actually go online to USPS and have them deliver boxes to me.  The largest per cubic inch box is the Game Board Box. I can fit a generous queen size quilt in one of these with a little work. If you don't need 25 of them, you can always return them to your local Post Office – which I've actually done before! The Medium Flat Rate Box is a little cheaper and you should be able to fit two quilt tops and two quilt backs in the box.
Isn't It Expensive to Ship Quilts?
It doesn't have to be! I love USPS Flat Rate box 'if it fits it ships' policy because I've pushed that boundary! 
One of the easiest ways to save money is to send multiple quilts at the same time. I can easily pack two smaller quilt tops and backing into the Medium Flat Rate box which costs $15.05 if mailed at the post office.
If you are mailing batting it will take up a lot more space in the box. You will probably get more bang for your buck if you just mail your quilt top and backing and purchase batting from me. I offer Warm and Natural and Warm and White cotton batting, Hobbs 80/20 poly cotton, and Quilter's Dream Orient.
Return shipping will be slightly less because I purchase through PayPal and there is a small discount. I will only charge the actual shipping price and I always try to minimize the shipping costs so I really stuff those boxes!
What Else Can I Do to Prevent Damage?
Pack your quilts in see through bags.
Packages are sometimes left outside when they are delivered and cardboard boxes can absorb rain or snow. The plastic bags ensure that your quilts are protected.
You can be extra safe by writing your name and address on the plastic bag in case anything happens to the box in transport.
Don't open the box with a knife. 
As I mentioned, I stuff the boxes as full as possible to save on shipping. To avoid accidentally damaging the quilt, don't open it with a knife!
As far as insurance with USPS, the Priority shipping comes with $50 insurance. I've heard that if you pay for more insurance the Post Office requires a signature when delivered. That would be an extra precaution against loss. If you plan on buying extra insurance, only buy enough to cover what you have in receipts. For instance, if you have your fabric receipts and any receipts that you can prove how much you've spent on the quilt top, that is the amount you should purchase. The post office will not give you your labor costs in making the quilt top. They will only do this if the quilt is appraised.
When I return your quilt I will only add additional insurance if you request it. The additional insurance would cover the cost of longarming and anything else on the invoice (such as batting purchased).
Can you trust a Longarmer to get your quilt top back to you? Of course! I rely on word of mouth referrals of existing customers. I've had clients that are well known like Shelley Cavanah of Cora's Quilts and Latifah Saafir Studios and all levels of quilters trust me with their quilts. Don't let the fear of shipping stop you from finishing your quilts!  If you have any other questions about shipping quilts, don't hesitate to email me and ask!